My music
Over the past two years I've enjoyed learning about audio engineering, synthesis, sound design, and various facets of electronic music. I've been heavily influenced by ambient and new-classical electronic musicians, from Brian Eno and Suzanne Ciani to the infinite variety of current music makers.
I've had limitless fun using MIDI devices and digital instruments in Ableton Live to create musical environments inspired by nature and life in the city. Some deep over-thinking of my personal music-making process inspired me to develop a system of generative music, so that I could focus on instrumentation, space, and character, instead of writing pitches and rhythms. Each piece of music on this album was generated from sets of rules determining things like pitch, rhythm, etc. using elements of chance and randomness, so that every performance generates a unique musical output.
As the musical director of sorts, when I perform this music I can't anticipate exactly what will be generated, which makes performing so exciting to me! It feels like a duet between myself and the computer - except I also programmed the computer, I guess.
---
Sample Pack - Mason's Percussion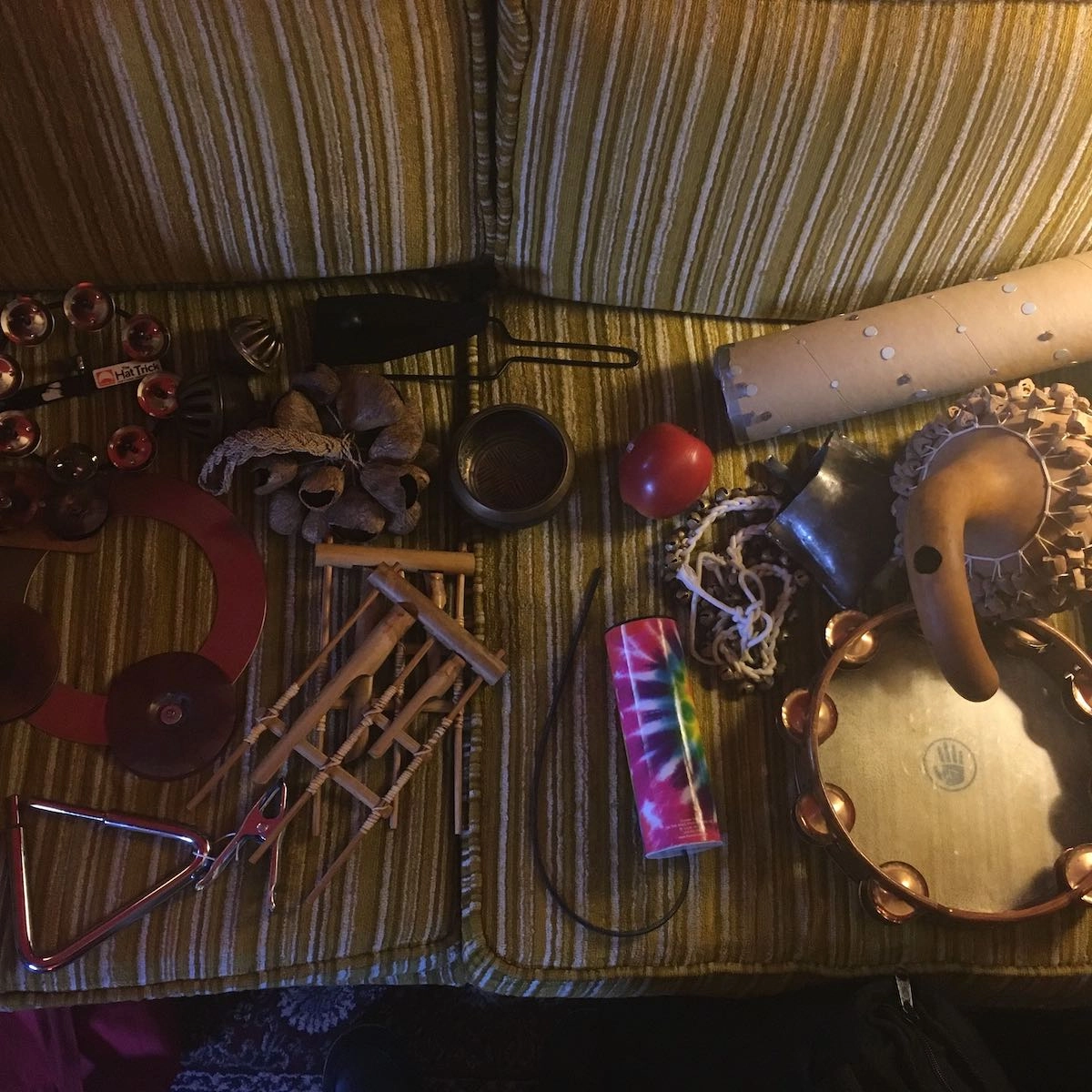 I spent a day at Johnny Goss' Dandelion Gold studio to record every small & handheld percussion instrument I own (and a few of Johnny's things too). We recorded more than 60 instruments with a wide variety of microphones. I poured over the audio we recorded to cut one shots and loops, then organized everything into a cohesive, high quality sample pack.
We used an AEA R88 mk2, a WA-251, a U67, and a pair of MXL V67s to record all of these instruments:
Cymbal & Gong:
17" Zildjian K Dark Thin Crash
18" Zildjian Kerope Crash
24" Keplinger stainless steel Cymbal
24" Steve Weiss wind Gong
two pair of finger cymbals
Handheld:
cabasa
wooden frog
guiro
ratchet
singing bowl (C4)
slapstick
vibraslap
Hit:
almglocken
two pair of claves
a small collection of cowbells
Abel, Sabian, and toy triangles
woodblocks
gankogui
qraqeb
a three tone bell my mom found at a flea market
Ribbon Crasher
Shake:
so many different shakers
a small family of Altoids tin shakers
two angklung
duck & elephant bells
Indian ankle bells
Flexatone
three sets of goat hooves
two shekere
sleigh bells
thunder tube
wind chimes
Tambourines:
Black Swamp classical tambourine (copper jingles)
two Hat Tricks
a few headless tambourines
Tambouraca
Kanjira
Drums:
Chinese tom
djembe
udu
---
Adventures in live looping
While I worked towards my Masters degree at the University of Washington, I developed an interest in live looping, inspired by loopers like BinkBeats, Reggie Watts, and Marc Rebillet.

My live looping projects helped me to become familiar with Ableton Live, and I learned about automation, scripting, and all kinds of related music technology ideas.
---
Masters Recital
To celebrate my graduation from the University of Washington, I presented some music I had been studying and practicing for more than a year!
Here's my recording of The Fall of the Empire, Frederic Rzewski's eight movement speaking percussionist solo, composed for Allen Otte in 2007.
I made this video of Tapping the Furnace, a speaking percussionist solo composed by Dorothy Hindman in 2007.
This is the first movement of Steve Reich's "New York Counterpoint."
---
Tesserae
Here's my performance of the quartet version of my composition "Tesserae."
This piece won the Portland Percussion Group Call for Scores in 2017, and is composed with flexibility in mind: it can be performed as a quartet, or a trio (without the drumset part).
All audio/video recording, editing, and performance by me!
Sheet music is available from Tapspace.
Many thanks to Tapspace for publishing my work, my first (not self-published) published composition!
---